TENA® Regular Underpad, Extra/Heavy Absorbency
TENA® underpads are designed to reduce odors, absorb leaks and maintain dryness. 
Extra Absorbency assist in dealing with adult incontinence by preventing wetness spreading to mattresses, furniture, or wheelchairs.
Features:
Interior lining is soft, vented and non-irritating to skin.
Quilted mat for enhanced fluid dispersion and mat integrity.
Moisture proof lining for linen protection.
Unisex.
Disposable.
Gender:

 

Unisex

Latex content:

 

Latex-Free

Colour:

 

Blue

Brand:

 

TENA® Extra

Nonwoven

Polyethylene Material
Regular Underpad, Moderate
Catalogue Number             Length          Width
350                                        24"                 17"
351                                        24"                 23"
352                                        36"                 23"
Extra Underpad, Heavy Absorbency
Catalogue Number             Length          Width
 354                                        24"                23"
355                                         36"                23"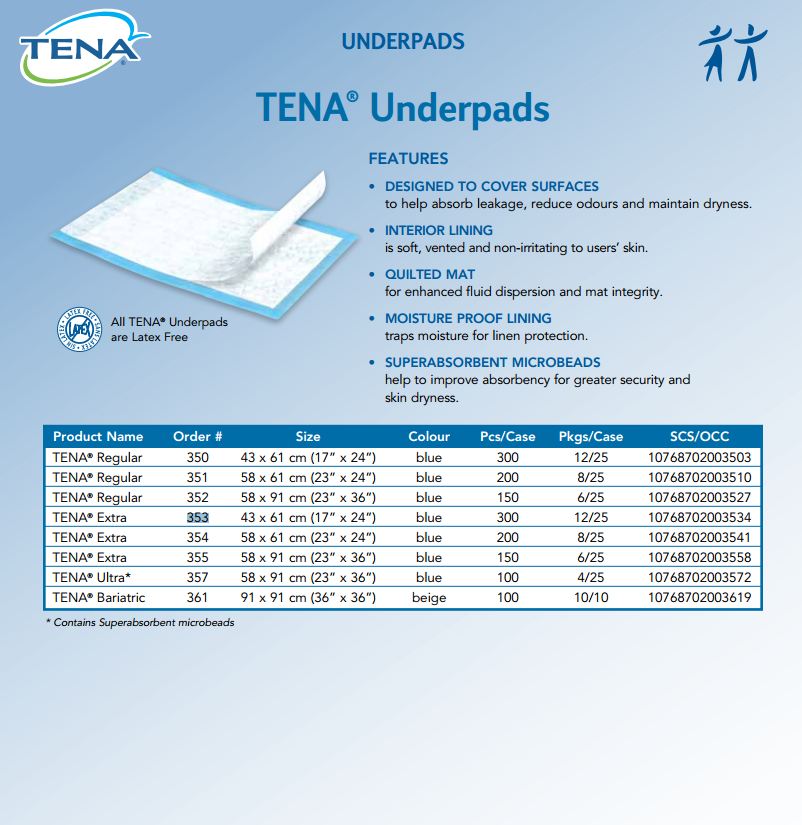 NOTE: All prices on this web site are subject to change without notice. BC Medequip Home Health Care Ltd shall have the right to refuse or cancel any orders placed for product listed at the incorrect price.